Written on 3/11/2009 03:21:00 PM by poison_ivy
Available at:

So if you can't wait for the Samsung Omnia HD to be launched, then the Samsung S8300 which will soon be launched in the UK in a few days might just satisfy your appetite for HD content on your mobile phone.

Design

The Samsung S8300 Tocco Ultra is a very sleek mobile phone. I have to admit, this is a step up from the plastic slider phones that Samsung previously released. Sure, there are still plastic materials used but it's very high quality and combine that with the black metallic frame and you got yourself a drool worth, head-turning phone. The back reminds me so much of my white Sony Ericsson W595 because both phones features a different back color from the rest of the phone. The effect is very pleasing to the eyes. The screen is only 2.8 inches but put in an AMOLED display and 16 million colors and the display is just--wow! Colors are vibrant and pop up at you. The Samsung S8300 Ultra Touch is not the slimmest slider phone but it's thin enough yet have a solid feel to it.


Performance and Features
Okay, first, the Samsung S8300 Tocco Ultra Touch has a CAPACITIVE touch screen. It means it should rely on the heat of your fingers rather than its pressure to respond. I've always equated capacitive touchscreens with multi touch but sadly, that's not the case with Samsung. I don't really know how multi touch technology works but hopefully, a firmware or software update might make the Samsung S8300 multitouch capable in the future??!!! Anyways, as to the touchscreen responsiveness, I was actually surprised. From the videos at the MWC 2009, I can see some lags and unresponsiveness but it seems that Samsung was able to fix that issue--slightly. While the capacitive screen is much more responsive and fluid compared with the videos you see of the Samsung S8300 UltraTouch but there are times when you have to press the screen twice before you can get a program to open. At times, there's also a noticeable lag when you switch anywhere from the widget homescreen. But anyways, I'm used to slow that's why I don't use the iPhone so touch screen responsiveness is still okay in my book. It's not LG Cookie slow but it's not iPhone fast either.
The good news is that you can now download new widgets for the homescreen, something which has been missing from my Omnia (which reminds me that I have to google to find out if Samsung already released new widgets for the latter). I REALLY like the notepad widget which lets you actually see what you write on the homescreen unlike the notepad widget of the Omnia which just opens up the Notes application. I hope Samsung will be able to incorporate this widget in the future widget releases in the Omnia.
The Samsung S8300 Tocco Ultra Touch also features an 8 megapixel camera with LED Flash, and all the other goodies you can find on the Pixon. As usual, image quality is good though I can't compare with with other 8 megapixel phones since this is the first 8 megapixel phone I've handled . There's a nice picture browser wherein you can browse through using either sweeping motions or the accelerometer.
Even though the S8300 runs on Samsung's proprietary OS, the good news is that business users can view PDF, excel and word files using Picsel Browser. I have to say, unlike other java based applications, Picsel browser can open up a large PDF file without any problems. Again, you can make use of the capacitive touchscreen to "flick through" using finger swiping action. This is actually my favorite application on this device.
And now comes the video quality. The Samsung S8300 Tocco UltraTouch is able to playback DivX videos and watching high quality videos on this device is REALLY amazing. Sound quality is great too when using the speakers. I was first torn about converting my divx files into smaller files for viewing on the S8300. I was so used converting my video files to smaller files since I know that watching uncoverted videos straight up would result in blocky videos but that's not the case with the Samsung S8300 Ultra Touch. I was able to watch a 600MB DivX video without so much as a hiccup. Really amazing. I don't know the largest file that the S8300 could take before videos become blocky but if it can play a 600-700MB file then I'm happy with it. On the downside, if your videos has a 240x320 resolution, the S8300 won't make it fit on the display so expect to see a lot of black borders.
As for the music player, it has a much improved interface than the music player on my Omnia. You get rich sounds when using the speakers and even the headphones. As with the Omnia, you can use your other 3.5mm headseat jack but you have to make use of their proprietary converter. The Samsung S8300 Tocco Ultra definitely makes for a nice multimedia phone.
And now for the downside, first it has no WiFi though it's 3G/HSDPA compatible. Second, it comes with Samsung's proprietary OS so Exchange mail is a no-no so you can scratch the Samsung S8300 Tocco Ultra from replacing your business phone. Third, the included browser sucks and you're better off downloading the Opera Mini or Bolt. And Fourth, you would have thought that since it comes with a keypad there would be no learning curve but we thought wrong. Since there's no physical erase button (back button on the middle would take you out of the messaging application) the only way to erase something while writing a message is through the backspace on the screen which is really a far reach for my thumb, besides if I accidentally press the backspace button on the screen a second longer, it would erase all of my written message. Also, since there's no directional keypad, if you want to go to the first word on your message, you have to touch the screen and when the S8300 Tocco is having one of its unresponsiveness moments, it would take you a lot of pressing the screen at just the right pressure to take you back to the first word.
Conclusion
If you're looking for a multimedia mobile phone, the Samsung S8300 Tocco UltraTouch has all the makings of a great multimedia phone. The AMOLED screen makes watching vidoes enjoyable, sound quality is GREAT, picture quality is also great. What more do you need? WiFi? Well, yeah but what would you need WiFi for if you can't really use it for desktop browsing? The Samsung S8300 Tocco Ultra Touch is a multimedia phone and a good one at that. The S8300 is now available at Germany and will be available on Vodafone UK starting March 12th.
Sample Shots Taken from S8300 Ultra Touch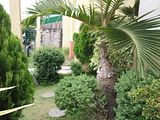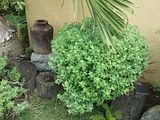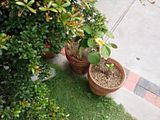 Alternatives to the Samsung Tocco Ultra:
Samsung Lucido
(Samsung S7220) -
This mobile phone sports the same design as the Tocco Ultra except that the Samsung Lucido is a candybar phone. Both phones have AMOLED display and GPS and although the Samsung S7220 only has 5 megapixel camera, it also has smile shot, face detection, autofocus, anti-shake, etc. However, the Samsung Lucido does not support DivX videos and only plays MPEG files. For those not into touchscreen phones, the Samsung Lucido mobile phone is a good alternative.
Nokia N86
- The Nokia N86 is Nokia's first mobile phone with 8 megapixel camera. Nokia has been churning out great camera phones and from other reviews on the Internet, the Nokia N86 doesn't disappoint in terms of picture quality. If you prefer a better camera phone, the Nokia N86 is a good choice.
Sony Ericsson C905
- Another 8 megapixel cameraphone this time from Sony Ericsson. The C905 produces better picture quality, however, there have been reports of a lot of returns for this mobile phone, a firmware issue, I think. It's not a multimedia powerhouse like the Tocco Ultra but it is a good camera phone.
Sony Ericsson W995
- Another 8 megapixel shooter from Sony Ericsson and may be a direct competitor of the Tocco Ultra. It's a great music player but the picture quality isn't as great compared with the C905. The good news is that it has WiFi, something the Tocco Ultra lacks.
OTHER SIMILAR PHONES:
Samsung Jet Ultra
Samsung i8910 HD
Sony Ericsson Vivaz
.
If you enjoyed this post
Subscribe to our feed