Written on 11/29/2013 04:20:00 PM by poison_ivy
I've been searching for the best travel/portable external battery or powerbank for my gadgets and there's just one requirement for me to consider it portable and best for travel: they have to have a built-in AC adapter or prongs. The built-in prongs for me is a must-have because I hate carrying extra cables to charge the powerbank. In fact during one of my travels, I had to check-in my cables one time because I was carrying too many, they probably thought the cables were abundant enough to tie together and use as a rope to tie up the pilots in case I would hijack the plane or something (I forgot which airport that was). Anyways, you might argue that there are external battery packs that can use a microusb cable of one of my gadgets but then I'll be less one cable to charge my other gadgets.

During my search, there are 3 brands which I came across that have built-in prongs, New Trent, Hyperjuice, and Mycharge. I've bought all three and compared them to see who makes it best.

HyperJuice Plug 10,400 Mah

The HyperJuice Plug has the biggest capacity among the three but it's also the biggest. It's large and heavy and if you try to charge it in a wall outlet, you might feel that the prongs would break because of the pack's sheer weight so it is best to charge the powerbank on an extension cord safely nestled on the ground. I love the look and feel of the HyperJuice Plug, the plastic and metal seems top notch and well made and doesn't easily scratch. The only build quality issue is the prongs which you can access by sliding it out, it's flimsy and like I said, it seems it won't support the weight of the power pack.

As to how the 10,400 Mah power holds up, there's one thing you should know about powerbanks, and it's that the advertised power isn't actually its actual power. So when a manufacturer says that their power pack has 10,400 Mah and you have a 3rd generation iPad which has a battery capacity of 11,560, it doesn't mean that your powerbank can charge your ipad up to 90% (10,400/11,560), during my research...well, there's a lot going on and to simplify things to get an accurate picture of how much your powerbank can power-up your gadget, use this simple equation: powerbank capacity *.90 *.80 = actual powerbank capacity. So in the Hyperjuice Plug's case it's 10,400*.9*.8=7,488 which means it should charge my iPad 3rd gen up to 67% (7488/11560), in reality the Hyperjuice Plug was able to charge my iPad up to 60% which is not bad at all and is acceptable. It has two USB ports for charging your device and it's intelligent enough to know when you have plugged in a tablet or a smartphone so it outputs the appropriate power.

Sadly, as much as I love the HyperJuice Plug, after two months of use it died on me. It won't charge my gadgets and I couldn't return it to Amazon. And since I bought it on Amazon US when I was visiting there, well, the return shipping and shipping it back to me is much of a hassle, not to mention it would add up to the cost of the Hyperjuice Plug which at £88.01 is already pricey enough as it is.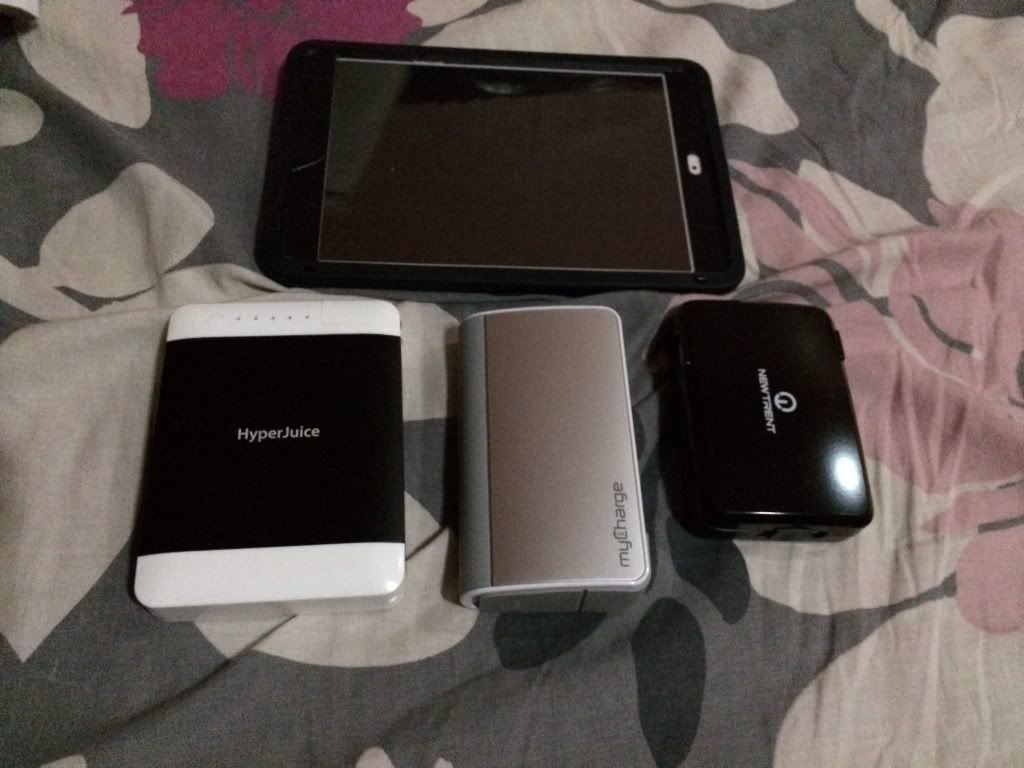 New Trent ChargePak 6000 Mah
The New Trent Chargepak is another powerbank with built-in prongs but unlike the HyperJuice Plug, the prongs pop-ups from the device, kinda like Apple's power adapters for Macs. It also has a built-in micro-USB cable which I love. Unlike the Hyperjuice plug, this one is smaller in size although not thinner. Build quality is also great and they used a matte plastic material so fingerprints is not an issue.
The New Trent Chargepak has two built-in USB, one for tablets and the other one for smartphones. In theory you can charge 3 devices simultaneously however since the capacity is only 6000mah, I doubt you'll be able to fully charge 3 devices at once. In my real world test, I was able to charge my Nexus 4 fully one time and the second time up to 90% only. Using my previous equation, it seems the battery on the Chargepak doesn't hold up well. I may have gotten a lemon but I won't be returning it since it does its job of charging on the go and most of the time when I travel I only need to charge my smartphone one time during a whole day trip. The Chargepak is around £27 on Amazon.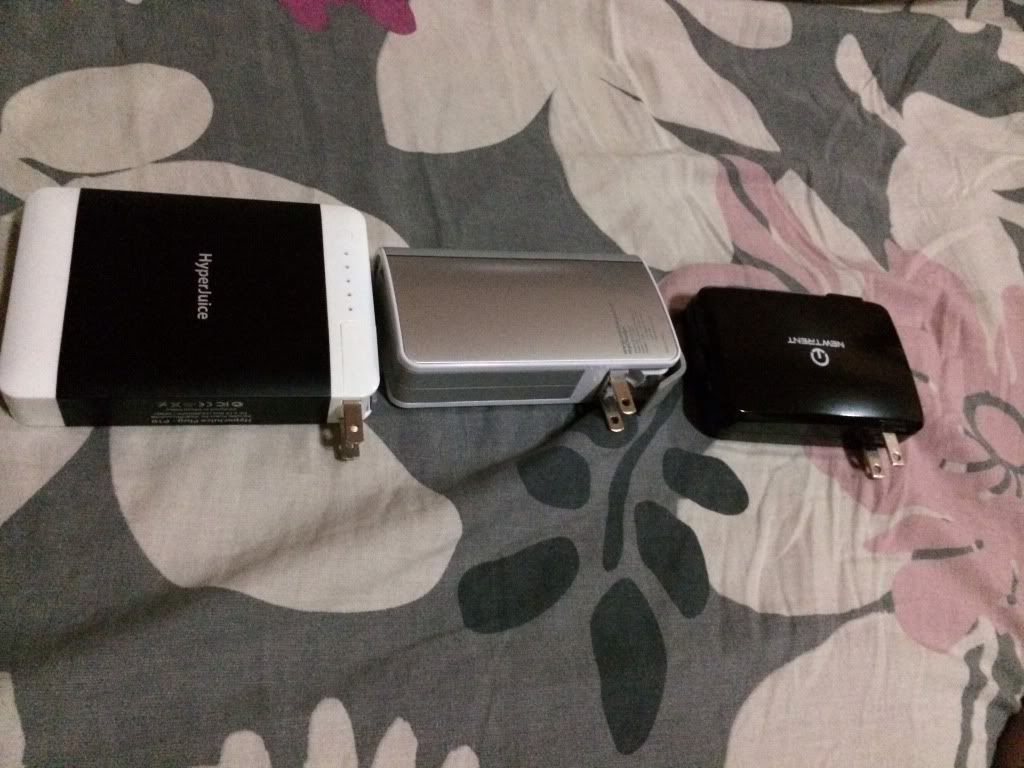 MyCharge Hub 6000
Now MyCharge Hub is my favorite device amongst the three. It's not as portable as the Chargepak
as it's larger and taller but it has excellent build quality. It has two built-in cables, the lightning adapter and the micro USB cable plus it also has one USB port for that third device. The downside in terms of build quality is that the cables are short and the lightning cable won't fit for some cases of your iOS device.
Compared with the HyperJuice Plug and Chargepak, the Mycharge Hub is the fastest to charge taking only four hours compared with the Hyperjuice's 16 hours and the Chargepak's 12 hours. It also has the best capacity even exceeding my previous equation, charging my Nexus 4 fully twice with enough juice to charge the 1800Mah battery on my Huawei E586 up to 40%. Of course, it's also the more expensive of the three costing around £61 to £65. Although there's a lightning adapter, if you have a case on your iPhone, the adapter wouldn't fit so you still need the extra cable.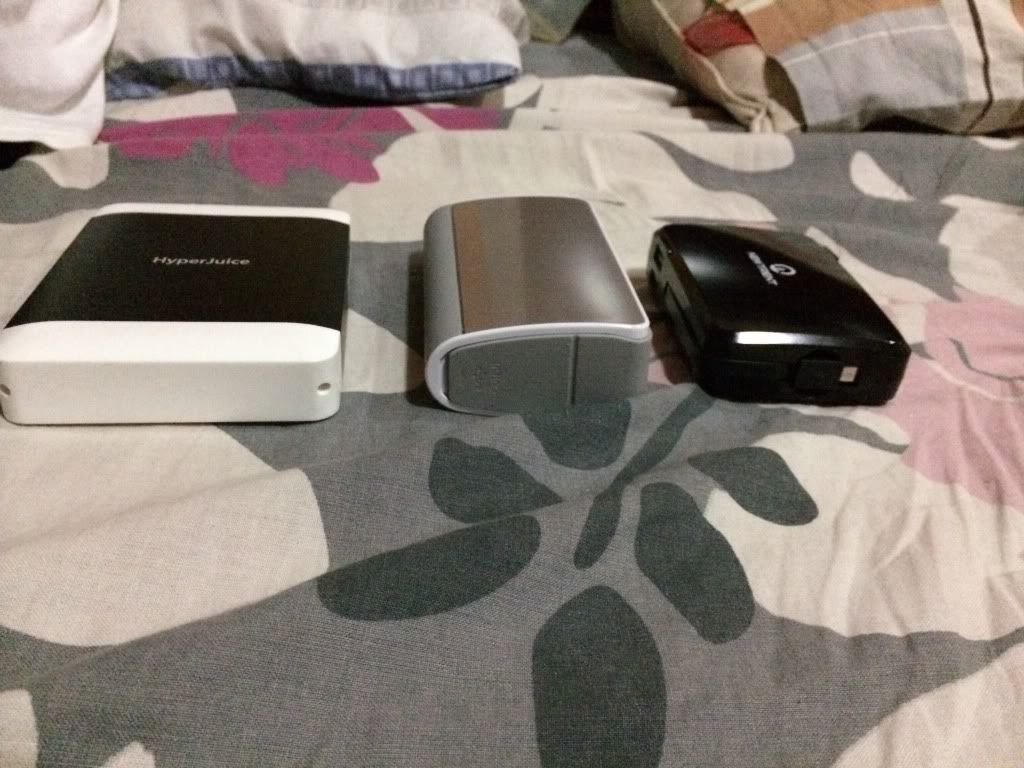 Wrap-up
The best power bank would really depend upon your needs. If you mainly use a tablet, then go for the higher capacity Hyperjuice Plug, if you want something on the cheap, New Trent Chargepak is for you and if you want to spend your money well, go for the MyCharge Hub.
If you enjoyed this post
Subscribe to our feed