Written on 10/05/2009 08:12:00 AM by poison_ivy
At first, I was confused when I came upon the Samsung B7330 OmniaPro. I thought the 2009 Samsung Omnia line-up only consists of four handsets: the Omnia Lite, Samsung Omnia 2, OmniaPro B7320, and the B7610 OmniaPro so I had to check to make sure that I'm not re-reviewing the B7320. From the moment I got hold of the Samsung B7330 OmniaPro, I knew it was a different handset, to find out the difference, read on.

Design

I definitely prefer the Samsung B7330 OmniaPro's design over the Samsung B7320. For one thing, the B7330 is slimmer and has, I don't know, a more appealing design. Although the keypad of the B7320 is more evenly spaced, the B7330 reminds me more of my favorite Samsung i780. The B7330 is also noticeably lighter compared with other mobile phones of this design. I like the fact that Samsung decided to put the microSD slot outside of the mobile phone for once. I can't quite describe the Samsung B7330's build quality, it's so light that it almost feel like a toy but yet, the materials used are top notch so to sum it up, I just REALLY like it. Adding a touchscreen like the i780 would have been better.

Samsung B7330 OmniaPro and Samsung B7300 OmniaLite side by side
User Interface
Samsung B7330 Homescreen
The Samsung B7330 that I was able to test out has the Windows Mobile 6.5 Standard (non-touchscreen) operating system. I thought the 6.5 upgraded was just limited to touchscreen so it's nice that Microsoft is also upgrading the OS of non-touchscreen WinMo mobile phones. WinMo 6.5 standard homescreen is somewhat similar to the homescreen of WinMo 6.5 touchscreen mobile phones wherein you can scroll through different panels vertically. It's really not much of an improvement but old-school WinMo users would feel right at home.
Applications
Applications are the standard that you see on Samsung's WinMo mobile phones such as the streaming player, Smart Converter, Smart Reader, Adobe reader, a Podcast app and RSS feeds, Voicenotes, and FM radio. Some new applications you can find is the Fring app which comes preloaded so you can chat and interact with your friends and it supports all major social networking sites, a new marketplace icon which brings you right to Windows Marketplace, MSN Money, MSN Weather, and a Smart Search icon which is similar to the iPhone's search capabilities.
Menus on the Samsung B7330 OmniaPro
Messaging, Phonebook, Web Browsing
Samsung didn't feel the need to skin the messaging application on the Samsung B7330 an decided to just keep the old WinMo style which is good, at least for those who, like me, likes the old WinMo messaging application. Setting up your email account is a breeze thanks to the email wizard. The Phonebook is quite an improvement. You no longer get the boring names list like the old Windows Mobile but you get thumbnail photos of your contacts.
I was missing the YouTube app but you need not fret because Pocket Internet Explorer now supports flash. Browsing web pages is quite snappy although still not as smooth as browsing on the Safari, but hey, does Safari support flash? Not!
Audio, Video, Image quality
I wish Samsung put their own player on the B733o OmniaPro. The Windows Media Player is the same player as the one on WinMo 6.1, only Samsung skinned this like what they did with the B7320. Now there's a reason why I missed Samsung's proprietary player. First, because Windows Media Player doesn't support DivX files, and second, you have to convert and resize your MP4 files in order for it to show up right.
Audio quality is okay, not something you should jump up and down for. The speakers are loud although audio will become tinny on higher volume levels. There's no 3.5mm audio headset jack and Samsung's proprietary adapter also doesn't have a 3.5mm headset jack.
The Samsung B7330 OmniaPro has a 3 megapixel camera. This mobile phone actually takes pretty decent pictures even in low light conditions, even better than the 5 megapixel Diamond2. Like the B7320, camera options on the B7330 include smile shot, face detection, and it also has auto-focus. Here are sample photos/pictures taken with the Samsung B7330.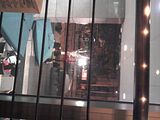 Conclusion
Sure, I fell asleep when I reviewed the Samsung B7320 but just looking at the Samsung B7330's design perked me up. No, the Samsung B7330 isn't just a reincarnation or a spin-off of the B7320, in fact, it's in its own class that I'm sure Samsung could market the B7320 and B7330 side by side in the same region. But since that's not going to be the case, those in Asia and stuck with the chunky B7320 might want to move to Europe just for the B7330's design alone.
If you enjoyed this post
Subscribe to our feed