Written on 6/28/2010 04:32:00 PM by poison_ivy
Well, it's official, the iPhone 4 is the fastest selling mobile phone in history, selling around 1.7 million iPhone 4s from June 24th to June 26th. But if you're wondering how Apple was able to sell 1.7 million iPhone 4 when it's hard to find one in stock anywhere in the UK, well, that's makes two of us.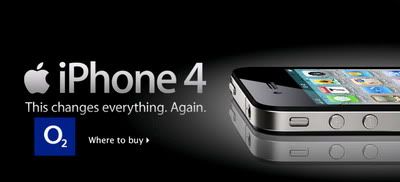 The Apple store UK has 3 weeks waiting time for the iPhone 4, O2 doesn't have any stock and won't arrive until around the 2nd week of July and they're only selling to existing O2 customers. Carphone Warehouse on the other hand won't mention over the phone if they have the iPhone 4 in stock, you have to go to their brick and mortar store to see if they do have one and you can't even call to confirm if there's stock or reserve one.

So where the heck do we get an iPhone 4 which is actually in stock? Well, if you're truly desperate, you can try eBay but you have to pay around 700-900 for a 16GB version, that's for either unlocked or locked units. But if you're not that desperate and 700 quid is too much for you, well, 3 weeks waiting time isn't so bad now, is it?

UPDATE: Looks like carphonewarehouse is offering the 32GB iPhone 4 under O2, Vodafone and Orange, while 16GB is only available to O2 and is only available for upgrade customers.

Orange website seems to have the iPhone 4 in stock but for Pay as you Go mobile broadband offers, it's still unavailable.

3 has the iPhone 4 but 16GB models are only available in store.

Vodafone iPhone 4 stocks have been depleted.
If you enjoyed this post
Subscribe to our feed