Written on 11/27/2010 12:20:00 PM by poison_ivy

So, I finally got my hands on a Windows Phone 7 handset, the HTC HD7. Out of all the Windows Phone 7 mobile phones to choose from, do you think this one's for you? Let's find out.

Hardware

Well, there's one thing I have to say about the HTC HD7, compared with its other siblings (Omnia 7, HTC Trophy, HTC Mozart, etc) this mobile phone is huge! Having a 4.3 inch screen, I have to say, this is not for female users with smallish hands because one handed use is almost impossible. However, the HTC HD7 seems not to be targeted to a female audience but more of the male side so the 4.3 inch screen may not be an issue for some. Getting a 4.3 inch screen could have its advantages especially if your phone has a kickstand and if you can playback any videos on your video library thanks to the auto conversion on Zune.

On top of the HTC HD7 is the power button which is somewhat annoying because it seems so recessed into the handset that pushing it down could be a bit of a pain. Another hardware gripe that I have is that the headset jack is not located on top but instead, on the bottom right beside the microUSB port. It's an odd position but I guess HTC is thinking that with the kickstand and all, users would probably prefer having the headset jack on their right so that no wires would obscure their views. The volume rocker is located on the right side of the handset, at first I thought there's no volume controls since I got so used to my volume rockers located on the left side but again, HTC had to consider that with the kickstand, the phone would stand on its left side so they left the whole left side of the handset blank of any hardware buttons.



The back of the HTC HD7 is made up of some soft touch material which is REALLY a smudge magnet especially if you have oily hands. You can gain access to the battery by popping open the battery cover. The battery cover is easy enough to remove though a bit flimsy. There's no microSD card slot as with other Windows Phone 7 handsets but the HTC HD7 boasts of a 16GB internal storage though I heard that European versions only have 8GB.
Overall, the build quality of the phone is just okay, bordering on a bit of disappointment because of the oddly placed buttons, recessed power button and flimsy back cover
Features
The HTC HD7 runs the latest Microsoft Mobile OS: Windows Phone 7. I won't delve too much on the interface since it's been reviewed on dozens of blogs and has been all over YouTube since Microsoft announced it during the early part of the year but in my opinion: It's a REALLY pretty interface. WP7 is responsive, fast, and has a lots of animations that would make any iPhone owners wow. However, prettiness aside, is it usable? Meaning, will non-techie and techie individuals fall in love with it just like what iOS did?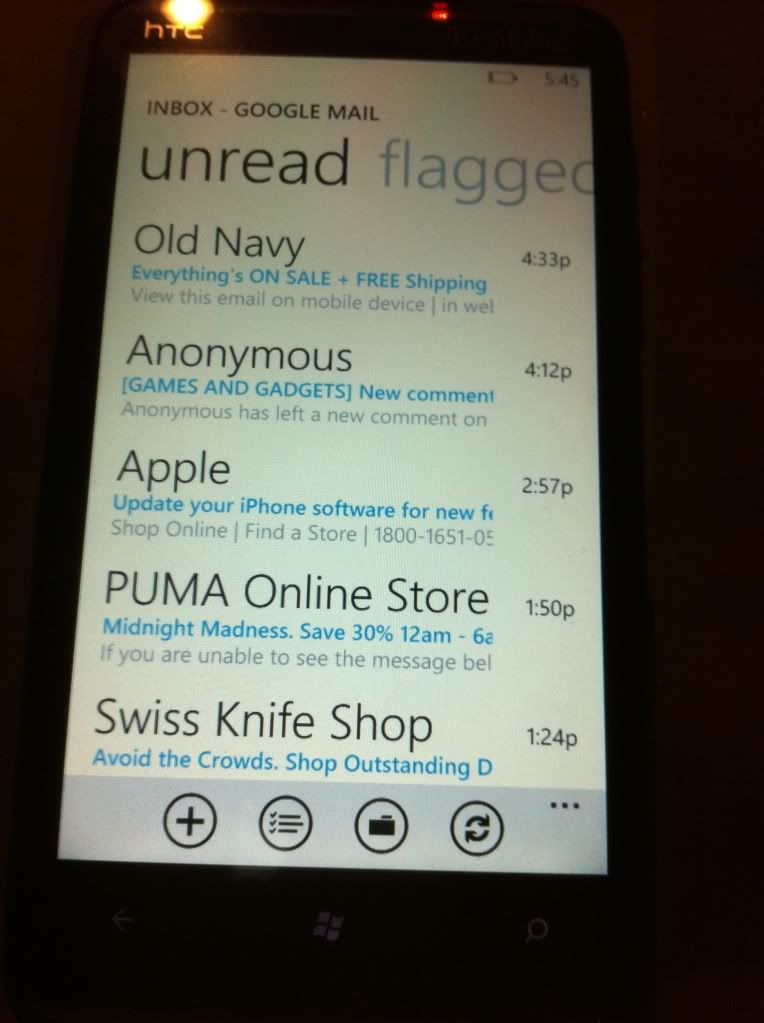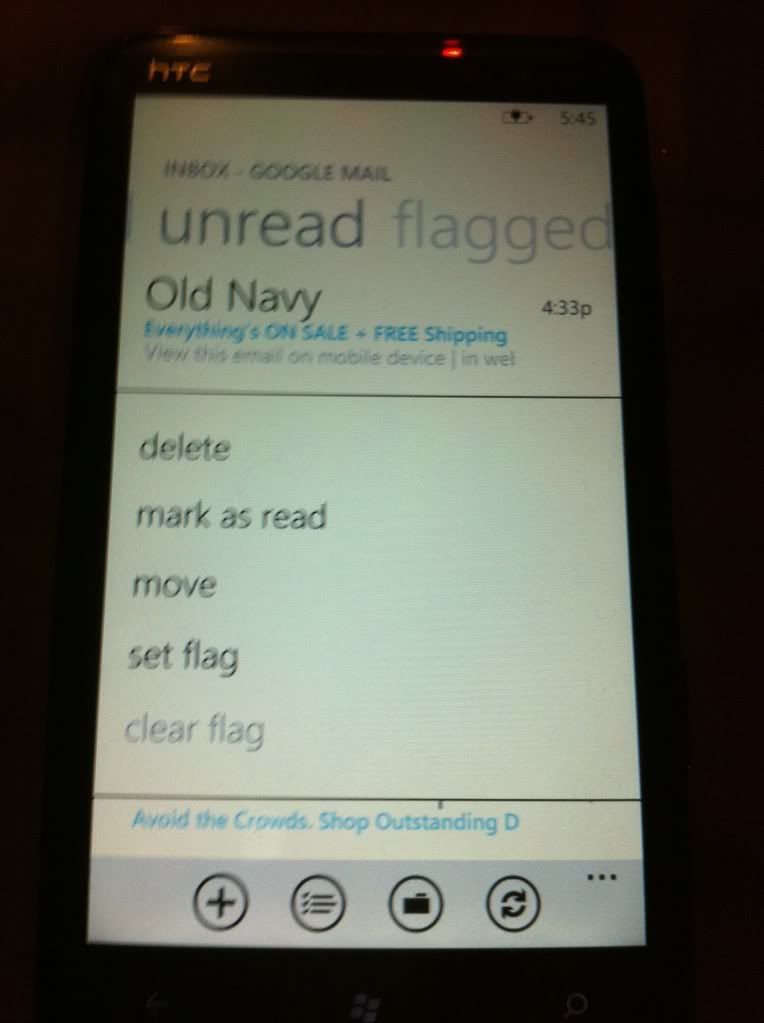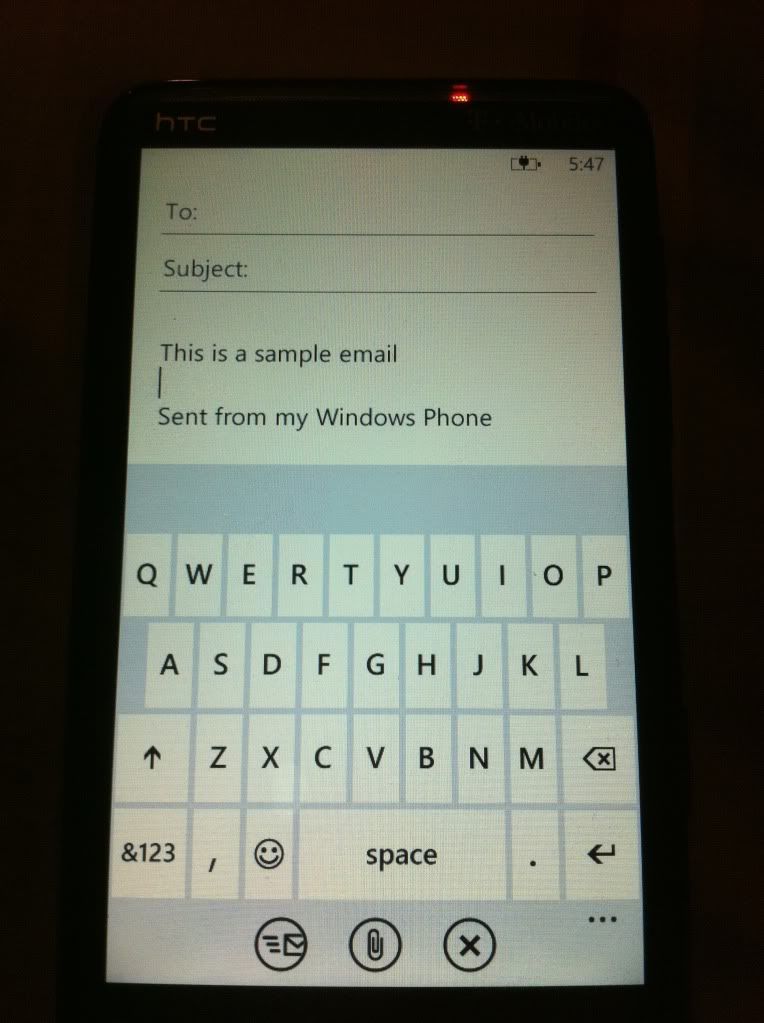 As with contacts, you can easily sync your Outlook contacts ans well as Gmail contacts. Syncing your gmail contacts is easy, you just need to add your gmail account on the email client and you're good to go. When you use your gmail account the first time, it won't sync your calendars, you have to manually check it under the email settings.
As for multimedia, the 4.3 inch screen and kickstand is really good for watching movies and you can watch most types of videos--except that they have to pass through Zune to be converted. Like the iPhone, if you want to sync or transfer anything on the HTC HD7, it has to pass through Zune which is something techie users wouldn't like as most of us are used to just dragging and dropping files like on the old Windows Mobile phones. Hopefully, someone would bring some sort of jailbreak for the HTC HD7 which would make technologically advanced users happy. I really like the music player on the HTC HD7, it has a very pretty interface though you can't fast forward or rewind songs using the scroll bar, you have to use the forward and rewind buttons. As for audio quality, it's really great when using your own headphones but things get a bit tinny when you're playing your music through the speakers.
As for apps and games, if the iPhone has iTunes and App Store, the HTC HD7 and Windows Phone 7 handsets have Xbox Live and the Marketplace. On Xbox Live, you can download mostly games while on the Marketplace, you can download, music, apps and games, pressing the latter option will revert you to Xbox Live. There are already a variety of apps available though the REALLY good ones are paid and most of them will cost over $3. The good news is that you can try most of the apps before buying. I've tried some games on Xbox Live and the graphics are REALLY great though some apps took a bit of time to load.
If you're looking for a productivity suite, you don't need to buy one as all Windows Phone 7 mobile phones come preinstalled with Office Mobile. You can view and edit Word, Excel, One Note and PowerPoint documents though I think if you're going for editing, you'll be very limited since Wp7 doesn't support copy and paste--Yet. Some say Microsoft will introduce it as an update next year and I do hope that this pushes through because what's the point of editing your documents on the go if you can't copy and paste?
Internet Explorer doesn't support flash websites, just like Safari on the iPhone but compared with the previous IE on WinMo phones, this one rocks. Rendering is fast and it's almost comparable with Safari and Android mobile phones. However, another thing that is lacking on IE is text reflow. Yes, you can use pinch to zoom on webpages but text won't wrap themselves and fit on screen (like on Android phones) once you zoom in on a page with lots of text. Still, compared with the browsers on iOS and Android, Internet Explorer is sadly in third place.
The HTC HD7 has a 5 megapixel camera with a double LED flash. I have to say, I'm really disappointed with the camera on this mobile phone. I was really pleased with the cameras on the HTC Desire Z and other HTC Android phones but it seems that HTC didn't put enough thought on the camera on the HD7. First, there's autofocus but there's no antishake mechanism of any kind, combined that with the hard to press camera button and I ended up with blurry photos most of the time. Also, the autofocus isn't as accurate and nice compared with the one on the iPhone. Sometimes, I've already half pressed the camera button to focus but the object I'm focusing on is still a bit blurry. The camera does takes nice pictures in bright daylight and even in low light conditions thanks to its double LED flash which is actually usable. The HD7 also shoots videos at 720p, again, there's some problem on autofocus but what I like is that there's an option to choose to shoot in HD or standard videos. Here are some sample pictures taken with the HD7.
Conclusion
Overall, I have to say that compared with the first version of iOS, WP7 is almost there though not quite compared with iOS 4.2 and Android 2.2. The interface is slick and flashy, Microsoft doesn't need to change that but they do need to add copy and paste function as well as the ability to switch between apps to satisfy those advanced users. Also, it's not enough that Microsoft adds and adds apps and games to the marketplace, they also have to offer these apps at an affordable price. Most apps offered by Apple at 99 cents are already good but I've yet to see a great app on Marketplace that costs less than $3. So, is the HTC HD7 worth the buy? If you're not an Apple fan and you're looking for an alternative that's more user-friendly compared with Android, then yeah, the HTC HD7 is a good second choice. However, if you're already tech savvy and own an Android or iPhone, I think it's best to hold off buying one until Microsoft releases the next update.
If you enjoyed this post
Subscribe to our feed